Food journalist today, Joseph Sigismond, is responsible for the personal training department at Equinox Fitness in Bethesda. This involves working both with a team of trainers on business development and with individual clients to achieve their fitness goals. Sigismondo states: "I am certified by the National Academy of Sports Medicine as a CPT / CES / PES, as well as [in] Precision Nutrition, USA Weightlifting, USA Triathlon, Kettlebell Athletics and TRX.
When not working out, his personal fitness routine involves strength training three times a week – with movements such as Olympic exercises, squats, and kettlebell exercises – and three days of cardiovascular training as well. sprints, swimming and cycling. With all of this, he says, "one day a week is all about recovery!" Read on to see how he fuels up for his hectic schedule.
Breakfast: Omega-3 cage-free, spinach and bacon omelet, fruit and coffee. "The high protein and healthy fat content in eggs and bacon keeps me full for the start of the day, spinach gives me a good start to my green veggie intake, and fruit and coffee give me a bit." natural sugar and caffeine. wake up and go.
Morning snack (not pictured): Trail mix with almonds, cashews, raisins, dark chocolate and a banana. "The combination of healthy fats, carbohydrates, and a little protein adds more calorie energy to start fueling the afternoon workout ahead."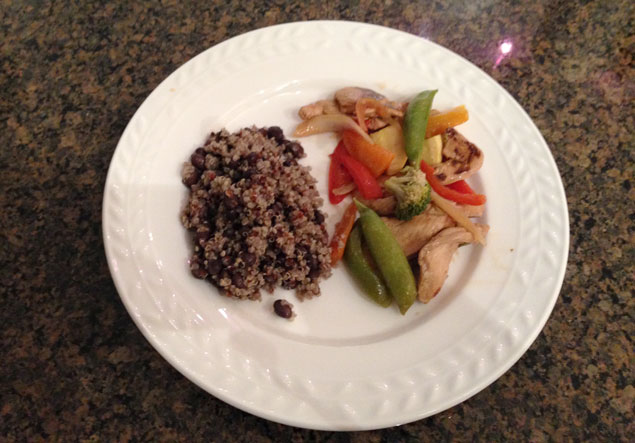 Breakfast: Quinoa and black beans, sautéed free-range chicken and mixed vegetables cooked with coconut oil. "More complex carbohydrates from quinoa and lean protein from chicken provide a moderately calorie meal that will provide long-lasting energy. "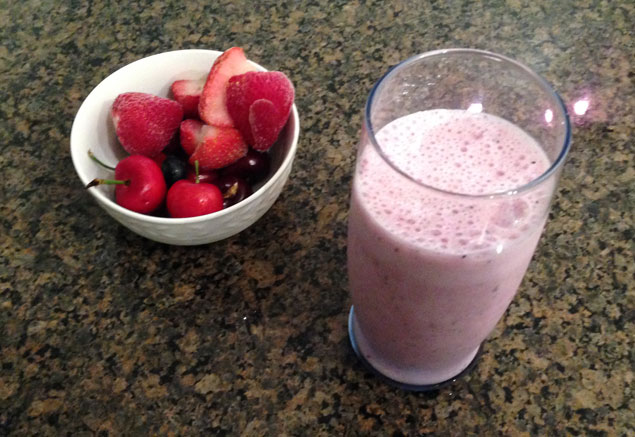 Post-workout snack: Protein shake with organic skim milk, berries, whey protein and almond butter. "Milk offers a carbohydrate-to-protein ratio of about two to one, which is great for post-workout recovery, berries and whey protein maintain the recovery ratio, and almond butter ensures that I get enough healthy fats throughout the day. "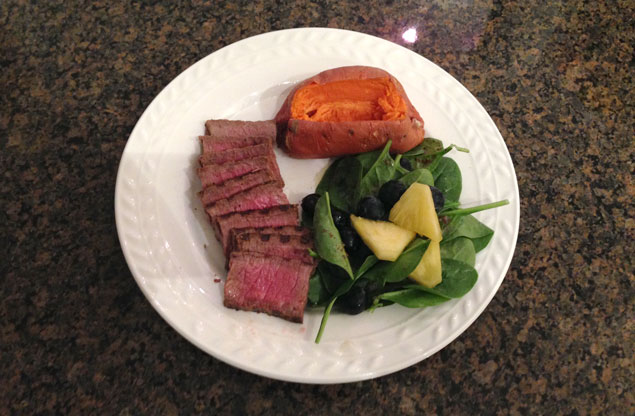 Having dinner: Grilled grass-fed steak, baked sweet potato and mixed greens salad with berries and olive oil vinaigrette. "Here, I start to cut down on carbs by just eating a small sweet potato, but load up on greens and lean protein for the muscle-building phytonutrients and amino acids from the protein source. "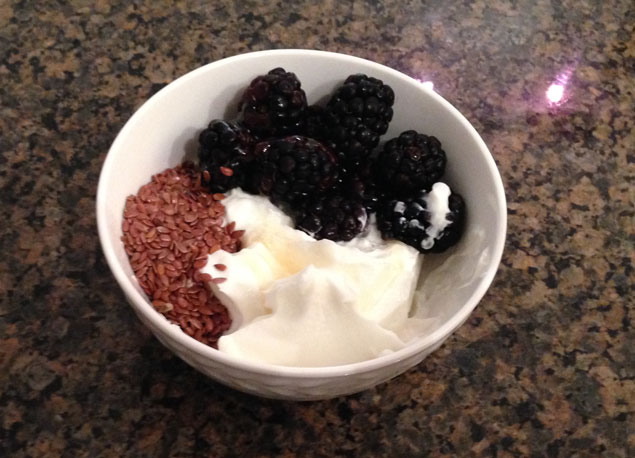 Dessert: Organic Greek yogurt with berries, honey and flax seeds. "It's a good alternative to ice cream to satisfy my sweet tooth with less guilt than with a meal high in calories and sugar. Yogurt is high in protein, fruit and honey add natural sweetness, and flax seeds add healthy fat.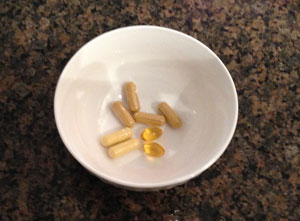 Daily supplements: Fish oil, a glucosamine / chondroitin / turmeric joint formula and a multivitamin. "The fish oil helps me get enough omega-3 fatty acids, the joint formula helps prevent aches and pains from workouts, and the multivitamin fills the micronutrient gaps in everything that gets me. missing throughout the day. "
Disclaimer: The Food Diaries series is intended to be inspirational and does not constitute an endorsement of each individual's diet.
Are you a local health, nutrition, or fitness expert with a love of food? Keep us a food journal! Email [email protected] for more details.